Josie's Dollz
I must admit, I had wanted to feature Xandorra's website first — but until I find out the 'why' behind her site no longer being online, the honor of my first Spotlight post shall go to Josie, of Josie's Dollz first!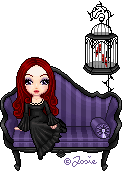 Josie's site is one of the oldest around as far as cartoon dollers go, and was also one of the most known. I don't know exactly when her site went live; however her site looks like it was put up in 2002 sometime (thanks to the
Wayback Machine
for that information). Her original URL was
http://www.over-the-moon.org/dollz/
. I believe she was at least partly inspired by Xandorra (who was inspired by me!) to get into creating her own cartoon dolls. She does not appear to have made any dolls in recent times; I'm not sure when her site was last updated. However, her site is a big part of dolling history and it's still well worth checking out.
When you visit her site, you will probably be in awe of her layout almost immediately — I know I still am! I can create pixel art, but I could never pair my own stuff with layouts for a website. I'm just not into the technical stuff, I suppose? Aside from the great layout, her dolls are just as awesome. She has done both pixel and tool shading in her dolls.

Along with her fabulous dolls, she offers the same bases she uses to make her dolls. She also has a "nostalgia" section where she has placed all of her older or "first" dolls, with commentary on when or why she created specific dolls. What a stroll down memory lane it was for me!
As for tutorials, she has a great base making tutorial. There's also a tutorial for shading folds, and then she offers a few color palettes for skin and clothing colors.
Last but not least, it appears she has several "Drag and Drop" doll-makers.
Remember folks, if you adopt any of Josie's dolls or use her drag and drop doll makers to make your own doll: make sure you link back to her site. If you visit her FAQ page, you will see that she requests this of anyone who posts her dolls anywhere online. Be respectful!
And that's your spotlight for the month!

Cheers,
Veriria