About
My name is Veriria, and I'm addicted to cartoon dolls — and The Palace Chat back in the day.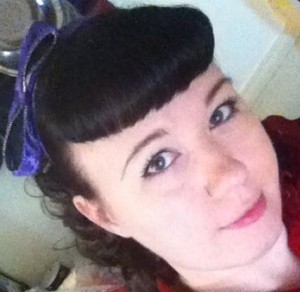 My real name is Kristen, and I'm going to be 32 years old next February. I've been in the dolling community so long, I really don't remember anymore when I started. I know that I started chatting on The Palace around 1997 or thereabouts; I don't remember when I started editing my own avatars from the bases available on The Palace.

The doll to the right was one of the first that I ever edited on The Palace Chat. I can't say for sure if it is THE first doll I ever 'made', but I did submit it to the now-gone First Dollz Project as my first. I edited the hair to make it look like pony-falls and turned it blue; I also edited the prep Palace shirt to have the sun design. In addition to that, I created that particular design on those pants, to look like the sky.

My favorite base body (on The Palace) ended up being the Paper Doll, shown to the left. I found it more proportional than the prep (and the boobs were way smaller and not ridiculous looking) and it was taller. I found a wonderful Palace back then named The Promised Land, and the people there seemed to favor the Paper Dolls. I found out much later that Mina, who was an avatar maker at The Promised Land, was the person Dollers know now as 'Shattered Innocentz'. The Promised Land held monthly avatar contests, and the talent there was just phenomenal. Love for an Immortal was also a member there. Each person had their own room, where they could show off their creations.
I put my own website up sometime with all the dollz that I envied that I collected from The Palace. I then started making my own dolls and base bodies, and then my Palace friend Love, for an Immortal showed me his website. I was inspired to scrap my website entirely and post my own dollz and base bodies online…Along with my own tutorials.
I maintain to this day that his website was the first to have tutorials for making dollz, and mine was the second. No one else had tutorials other than LFAI, so I decided to make my own on my website. At the time, I was getting well-known on Palace as a good avatar maker, so I would frequently have people asking me to either show them how to make dollz, or make one for them. Since I then had tutorials on my website, it was easy to reference it to people who asked for help.
And of course, the rest is history! My website has been online at its current URL of http://www.rubberhouse.net as well as http://www.veriria.com since 2001. There have been long periods of time between updates; we all grow in different directions. However, it would appear that dolling is something that I just can't quit. And that's just fine with me.
NAME: Kristen a.k.a. Veriria
MAIL: Contact Me Page
BIRTHDAY: February 5th, 1982
LOCATION: NW Indiana
PROGRAMS: I still use my old Paint Shop Pro version 7 from back in the day. MS Paint is also easy to use. I prefer Google's Chrome browser, but also have FireFox installed on my laptop.
STUFF THAT MAKES ME HAPPY: Pixelling/dolling. My husband Zero. The Rocky Horror Picture Show is also a big part of our lives – we are in two different shadow casts in the Chicago-land area: Help Me Mommy and as of very recently, Midnight Madness. I perform as Frank-N-Furter and my husband performs as The Criminologist. You may have noticed, I've been collecting every RHPS doll that I can find on the internet in my adopted dollz page(s). My Pomeranian Geronimo. DOCTOR WHO. Supernatural. Grimm. Our ROKU box. The Chive. My PT Cruiser. Non-stereotypical Steampunk. Fan fiction.
FAVORITE MOVIES: Labyrinth. Nightmare Before Christmas. The Rocky Horror Picture Show. Perks of Being A Wallflower. The Dark Crystal. Harry Potter. Star Wars. Star Trek. The Fifth Element. Hitchhiker's Guide to the Galaxy. Scott Pilgrim VS The World. Tons more that I can't think of at the moment, to be sure…
FAVORITE BOOKS: And/or authors. Terry Pratchett. Douglas Adams. Terry Brooks. Oh, screw it; I love most science fiction and fantasy.
OLD 'About' Section
A long time ago, a very well known doller known as Xandorra (who, incidentally, was started on cartoon dolls thanks to my website!) had created a "Doll Tutorial Search Engine" which linked to numerous websites on the internet to help in the creation of cartoon dolls. Sadly, her search engine has been closed for a long while now.
As I've been away from the dolling world for quite some time, I did not realize that Xandorra's search engine was gone. I wanted to find some tutorials to help me with tool shading, but it wasn't meant to be! Some time later, another doller named UltraViolet created a Doll Tutorial Directory for cartoon doll tutorials. I was happy to find it until I realized the last link added to the directory was way back in 2010!